VSSÖ Club Presentation

Founded in 1961
Breeds:
Appenzeller Mountain Dog
Entlebucher Mountain Dog
Bernese Mountain Dog
Greater Swiss Mountain Dog
Members: around 400
Contact:
– IWG Contact Gerhard Kunz gerhard.kunz@gmx.at
– www.vssoe.at
– www.facebook.com/schweizersennenhunde
Verein für Schweizer Sennenhunde in Österreich, the Club for Swiss Mountain Dogs in Austria, was founded in 1961 and not only represents the Bernese Mountain Dog but also the three short-haired breeds, the Great Swiss, the Appenzeller and the Entlebucher. It is the only FCI accredited Club for Bernese Mountain Dogs in Austria. The stated purpose of the club is the promotion and care of the pure breeding and the management of the Swiss Mountain Dogs as well as maintaining contact with FCI clubs for Swiss Mountain Dogs in other countries, the organization of Club Specialties as well as Special Shows at International dog shows in Austria, the education of judges for these breeds, holding training courses and competitions, supporting the health and the longevity of the breed and publishing a club magazine.
The club has about 400 members
Only breeders abiding by the rules of the Austrian Club are able to get Austrian FCI pedigrees and breeders must be club members. All dogs used in breeding must pass a breeding approval test organized by the club. This test is carried out by 3 judges: 2 conformation judges and a judge licenced to appraise temperament.
Activities
The club is very active in training and offers various courses for the members in Companion Dog, Tracking, as well as Ring training and introduction to Breitensport and Agility and Carting.Each year the club organizes one-week training courses in Obedience and Tracking with a VSSOe competition on the last day of the courses. Week-long courses in Search and Rescue Training in Rubble and area search work – in which a dog searches for missing people – are now also being offered.Dr. Wolfgang Zörner, founding President of the International Rescue Dog Association, recognized the aptitude of the Bernese Mountain Dog for rescue work and this has been proven again and again by the many Berners active in all spheres of rescue work in Austria.The Berner excels particularly in Tracking, and in 2016 in Tracking at the highest level, Odabella von Wiesmadern (Rojan von der Holderstockhöhe x Gina Strba-Vysoke Tatry), b: Dr. Wolfgang Zörner, o: Dr. Wolfgang Zörner was number 7 in the whole of Austria with points counted from all 150 FCI German Shepherd Dog Clubs in Austria. At the second level, there were 5 Bernese in the top 10! Numbers 3, 4. 5. 6. and 10, with one of our Champions, Tabea von Wiesmadern being number 5.
Shows
There are 8 FCI International Dog Shows in Austria each year, 3 of which are double shows with all breeds on both days. The VSSÖ invites specialist judges to 6 of these shows each year and these are the VSSÖ Special Shows. In addition, there are one or two Club Shows with CAC awards each year. Austria has a special class for Bernese with the Working Dog Certificate from the Austrian Kennel Club. We have two classes for Veterans at our Club shows: 8 and 9 as well as 10 and over. However there can only be one official FCI Veteran Winner awarded. Austria is a small country in the middle of Europe and exhibitors from all over Europe come to our shows with their best dogs. There is very little participation in the shows in Austria by the Austrians themselves.Full show results can be seen on our Homepage http://www.vssoe.at/ausstellung/ergebnisse.php
VSSÖ Health Programs
Matings have to be approved by a breed warden, and as well as structural and temperament concerns, the inbreeding coefficient must be under 3.6%, only one of the parents can have HD-C, and only one of the parents can have an elbow-grading of ED-1. Dogs with HD-C are only approved for breeding under certain conditions and 75% of the offspring must be X-Rayed before a further mating is permitted.
The gene test for degenerative myelopathy Exon 2 is compulsory and only the variations N/N + N/N, N/N + N/DM or N/N + DM/DM are possible so that no puppies are born in Austria with DM DM/DM on Exon 2.
A dog can only sire a maximum of 4 litters a year and the number of litters a bitch can have is also regulated. The VSSOe shares information in the database "Dogbase" with the SSV in Germany, and there is official cooperation between the KBS (Switzerland), DCBS (Germany) and the SSV (Germany) about mutual exchange of data concerning Bernese Mountain Dogs.
There are 36 Bernese breeders in the Club but the number of puppies born has declined dramatically in the last 3 years. This is due to the fact that almost exactly half of the females have stayed empty so that in 2014 and 2016 there were less than 100 Bernese puppies born. There seems to be no one specific cause but this problem has made the breeders very much aware of the necessity for consulting specialist reproduction veterinarians to improve fertility. The breed commission has been offering instructive courses from specialist reproduction veterinarians as well as advice, and we are confident that this problem will soon be a thing of the past.
HD and ED results are very encouraging with 80% of dogs tested being HD-A and 86% ED-0.
VSSÖ Events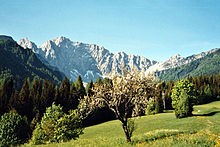 Our 2018 Club Show will be held in beautiful Spittal am Phyrn
VSSÖ CACA Club Show
Saturday, 19th May 2018
Sunday, 20th May 2018