BMDC of GB GOLDEN JUBILEE EVENT
21ST – 25TH SEPTEMBER 2022
FOREST OAK FARM, LYDNEY, GLOUCESTERSHIRE.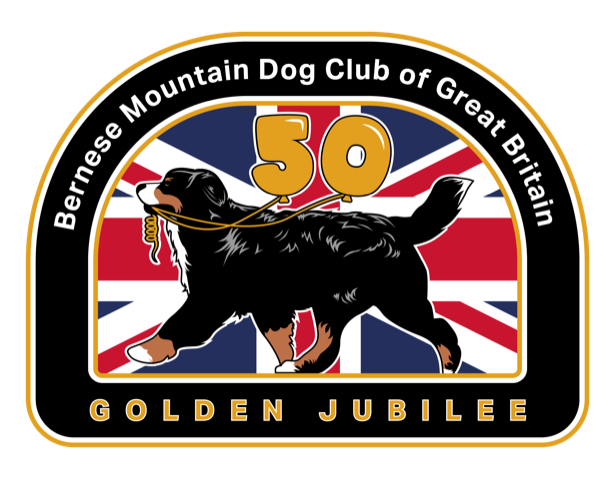 It is with some mixed feelings that we finally announce some detail of our plans for our COVID delayed celebration event later this year. We could not begin to plan with any certainty until the early months of this year and just as we had embraced the light of enthusiasm and optimism after two dark years and committed ourselves to our event, a big Russian shadow appeared over the world and there is another global crisis to deal with. The direct or indirect consequences of the terrible events in Ukraine will grow for us all, and may yet cause a rethink of our event, but for now at least, we are taking the old British motto 'Keep Calm and Carry On" and supplying a sense of normality to give some stability to life.
We completely realise that this might seem a very trivial thing for some people directly affected by events in Ukraine at the moment and our sympathies and respect go to anyone in this position.
However, we would like to invite Bernese lovers to join us for our event to forget the outside world for a few days and enjoy a good day and night Bernese fix.
We think our event has something for everyone with any interest in the Bernese Mountain Dog and ask that people at least look through the schedule of events before making decisions about whether to join us. We hope people think of this as a 4 or 5 day long Bernese social event, with friends and like minded people rather than as simply a 'shows with extras'. Aside from all the listed events there will be constant socialising and interaction during, and in-between, all the arranged activities.
We have a brand new venue for our special event which offers lots of positive features, there are lots of options for accommodation, on site camping or nearby hostelries of various types, evening events to continue old and new acquaintances with a British and Bernese theme and we hope people look forward to great, friendly, social event underpinned by a common love of the Bernese Mountain Dog.
As well as 3 Championship Shows for Bernese the planned events of the week, some large some smaller and all to be held on site, include
BIWG Meeting,
Fish & Chip Supper (evening event),
International Health Seminar,
Berner Bar (evening event),
Parade of Veterans (open to all 4 Swiss Mountain Dog breeds),
International Carting Parade,
Limited Obedience Competition (BMD only),
Great British Fete Night (evening event),
Celebration of Champions (open to all 4 Swiss Mountain Dog breeds),
Health Auction,
Torchlit Carting Parade,
Golden Swiss Carting Parade,
Junior Handling Competition,
Swiss Breeds Event,
Fun Dog Show,
Obstacart (for carters),
BHI Antagene 'Histio' & DM Testing Clinic,
Food & Wine (evening event),
International BMD Judges Meeting
and finally a relaxed wind down evening to finish on Sunday night for those still with us.
Much frantic work has been done in the last month or so with lots of meetings and research as we begin to cram, what should ideally be several years of preparation, into about 8 months. The link below is to a Planning booklet, published in hard copy, at Crufts, which has lots and lots of information for anyone to plan their trip. There is still more information to come in places but everything needed to book and plan is available within it. Please look through the booklet before making any decisions and if you need any further help the there are links to people who can help.
We hope lots of Bernese folk can join us and we hope we can help them enjoy a few days away from the unpleasantness of the world in the company of lots of happy Bernese. Please have a look through the booklet and we hope to see you for our event in September. Perhaps you will decide to stay with us for the duration of our celebration, join in with some events and go off to be a tourist on other days.
Please note that the online booking system for the on site camping and other activities does not become live until 11th of April.